News
Media Release: And Action! International Comedy Series Starts Filming in Canberra 
Thursday, 9 November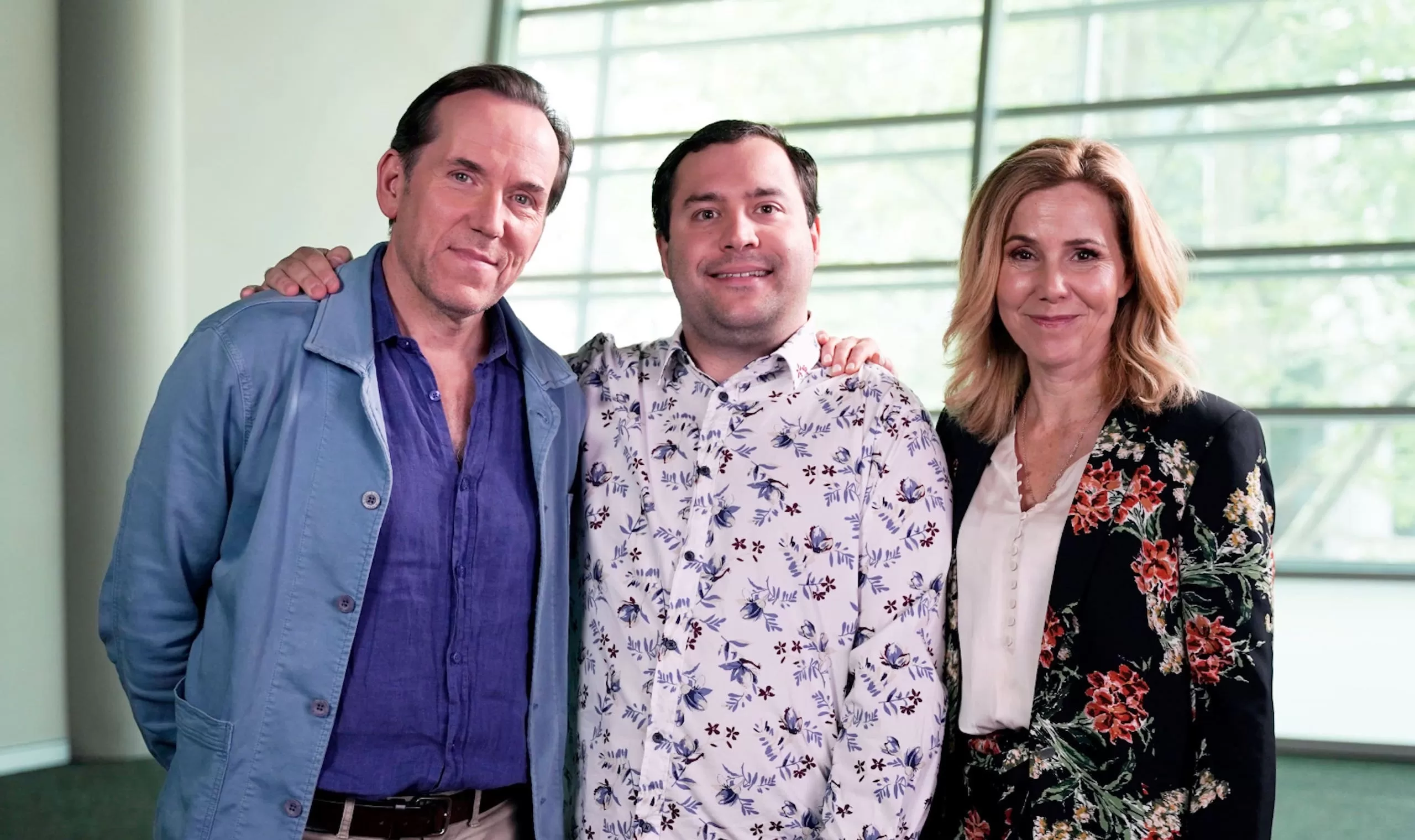 ABC, Screen Australia, ITV Studios, and Screen Canberra have announced that the cameras have started rolling in Canberra on AUSTIN, a new eight-part narrative comedy series for the ABC.
Produced by the multi-award-winning team at Northern Pictures, AUSTIN stars two of the UK's most-loved comic performers, Ben Miller (BRIDGERTON, DEATH IN PARADISE) and Sally Phillips (VEEP, BRIDGET JONES'S DIARY), along with favourite Australian actors Gia Carides (MY BIG FAT GREEK WEDDING, BIG LITTLE LIES) and Roy Billing (JACK IRISH, UNDERBELLY). Making his acting debut is Michael Theo, the breakout star of the ABC's international hit series LOVE ON THE SPECTRUM.
Supported by the ACT Government and Screen Canberra through the CBR Screen Attraction Fund and CBR Screen Investment Fund, this series will be filmed almost entirely in Canberra, with one week of filming in Britain. The 28-day shoot will provide training and employment opportunities for local industry and significant economic expenditure.
Assistant Minister for Economic Development, Tara Cheyne said the ACT Government was proud to support this exciting new series.
"The ACT Government is supporting this production through our Screen Attraction Fund, and Screen Investment Fund.
"AUSTIN will be another great opportunity to showcase our beautiful city to the world, and gives our local industry the chance to gain invaluable experience right here in Canberra.
"I'm so thrilled we have been able to secure Canberra as a location for AUSTIN. I am sure it will highlight to others in the TV and film industry that Canberra is a great production destination with interesting locations and a great local creative industry to tap into."
Holly Trueman, CEO of Screen Canberra, is excited about what this project means for Canberra and the local screen industry.
"We are thrilled to have the support of the ACT Government to bring productions like AUSTIN to Canberra," says Holly. "Filming this international comedy series here creates job opportunities for our professionals based in Canberra. A record number of Canberra locals are involved behind and in front of the camera. The experience, networking and professional development gained will help further their careers and build on Canberra's growing reputation as a creative hub.
"It also highlights our diverse filming locations, not just our major institutions like Parliament House. This series will show that Canberra is not just Parliament House – AUSTIN will bring the city's suburbs and culture to life. AUSTIN is another high-calibre project showcasing our city's creative potential. We must continue to see projects of this scale coming to Canberra to keep building our reputation as a destination brimming with creative prospects for filmmakers."
AUSTIN will air on ABC TV and ABC iview in 2024.
About AUSTIN:
When much-loved children's author Julian Hartswood (Ben Miller) inadvertently causes a social media storm, his career and that of his illustrator wife Ingrid (Sally Phillips) appears to be over. That is until Austin (Michael Theo), the neurodivergent son that Julian never knew existed, turns up out of the blue. Could embracing this modern nuclear family be Julian's route back from cancellation? Will Ingrid forgive him for being such a pompous shit? One thing is for certain: if Julian thinks Austin is going to be a push over, he's in for a rude awakening.
Production Credits: A Northern Pictures production for the ABC. Major production investment from the ABC in association with Screen Australia, Screen Canberra and ITV Studios which also handles international distribution. Post, digital and visual effects support by Screen NSW. Developed with assistance of ABC and Screen Australia.
Writers / creators: Darren Ashton, Ben Miller, Lloyd Woolf, Joe Tucker, Adam Zwar and Kala Ellis. Producer: Joe Weatherstone. Executive Producers: Catherine Nebauer, Darren Ashton, Ben Miller, Sally Phillips, Lloyd Woolf and Joe Tucker, Peter Anderson. ABC Executive Producers: Todd Abbott and Rebecca Anderson. ABC Head of Scripted: Rachel Okine.