News
In Conversation with Georgina Jenkins
Wednesday, 13 April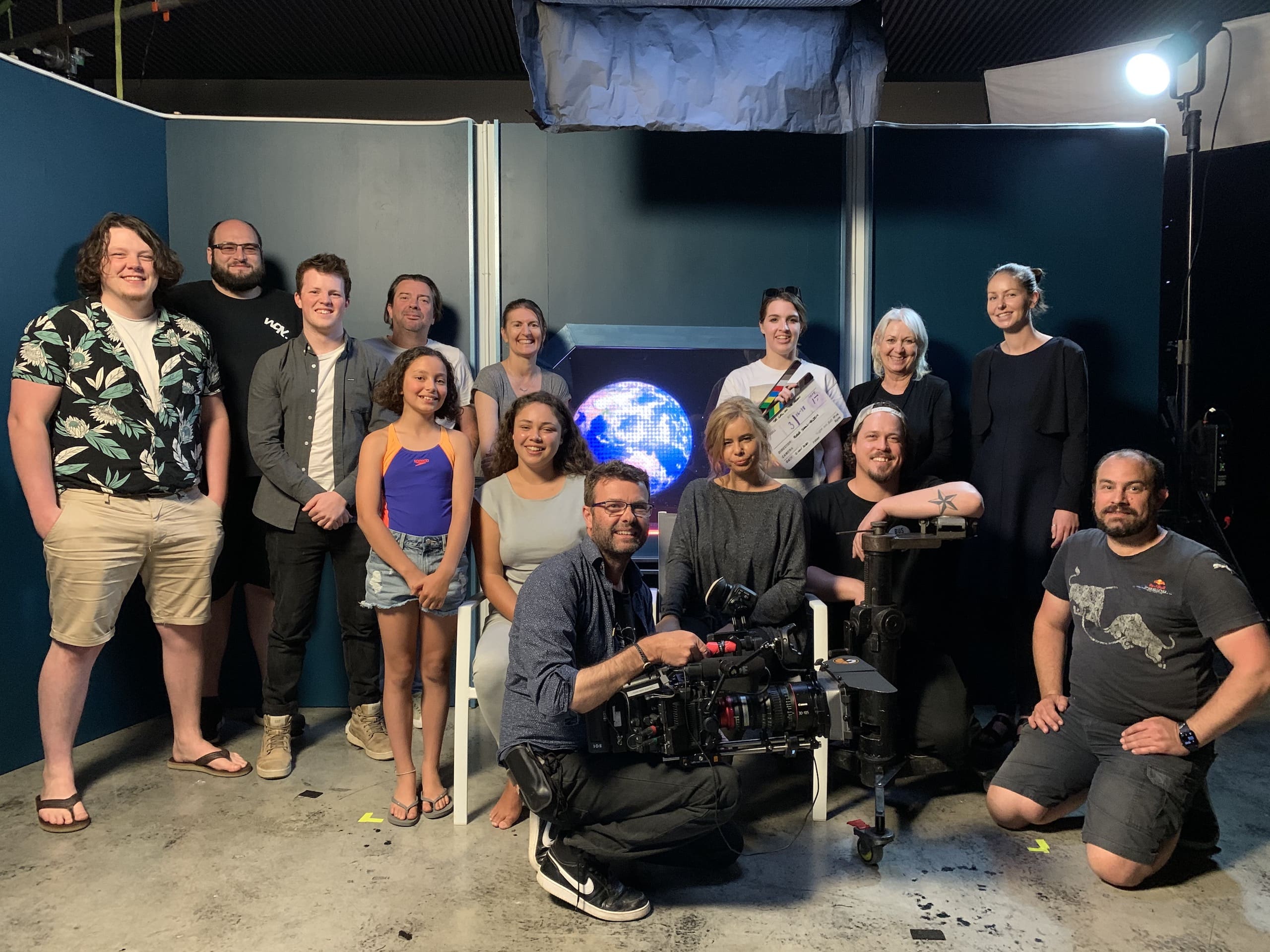 Australian filmmaker Georgina Jenkins is no stranger to the Australian film industry, having worked with Emmy-nominated producer Joanna Werner on the TV series SECRET CITY and DANCE ACADEMY: THE MOVIE. With a deep passion for the industry, Georgina has played an important role in supporting Canberra's screen industry through voluntary task forces and initiatives. We were lucky enough to catch up with Georgina about what she's been working on recently and the exciting projects she has lined up this year.
In 2021, Georgina released THE GIRL ON THE MOON, a short film set in 2069. This project was supported through Unreal Engine's inaugural Short Film Challenge, in partnership with Screen Canberra. Georgina's pitch was one of 1,800 applicants for the initiative, and was selected as one of just sixteen finalists, being awarded $20k with just six weeks to produce the film using Unreal Engine 5.
THE GIRL ON THE MOON centres on a young girl named Luna, the only child ever to have been born on the Moon, and features the work of many talented local creatives. The project has allowed Georgina to showcase the work of Canberra's evolving film industry to more than 20 film festivals across the globe, where the film has been awarded several accolades, including Best Film at the LA Sci-Fi and Horror Festival 2021.
Speaking on the film, Georgina says that THE GIRL ON THE MOON is ultimately a story about longing, with the film's protagonist, Luna, feeling disconnected from her world on the Moon and her 'home' on Earth.
"The inspiration was a distant image that I had in my mind, just over the shoulder of this young woman looking out a window, and out the window is this beautiful jewel of our Earth. And I just was like – 'Well, who is this girl? What's going on? Why is she there?' – And I just felt this real sense of longing. What she wants more than anything in the world is to go to Earth."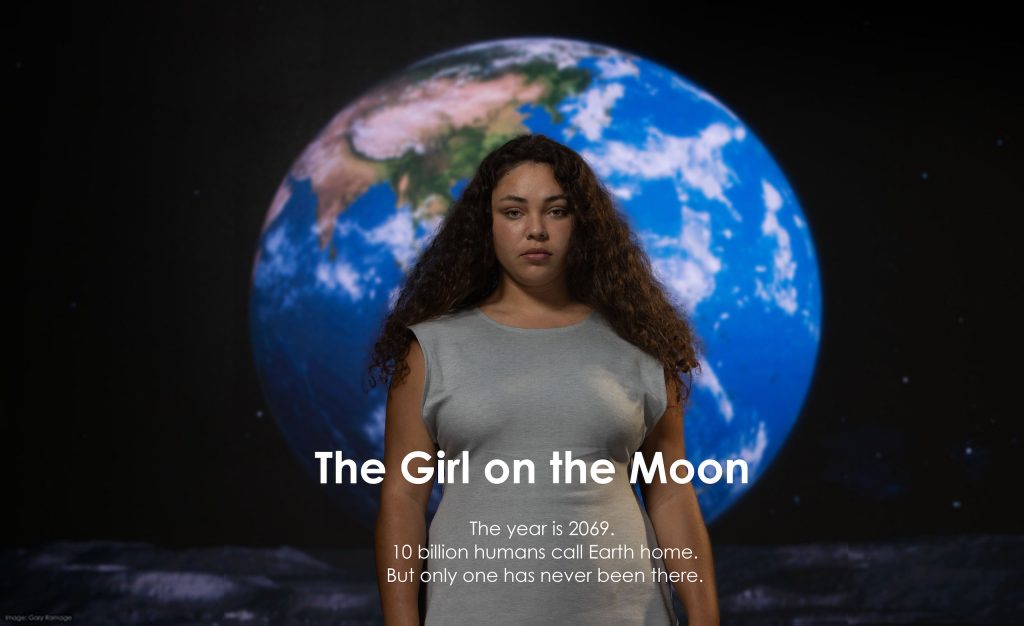 Georgina recognises how the film's theme of longing also reflects the current global situation we are all facing.
"This pandemic has really shown us everything we've taken for granted…that we can't just go anywhere we want anytime we want. It's really hard trying to get used to this new normal. This is a story of someone who is really disconnected and cannot get to Earth. It's about longing. About a love for this place we call home."
The COVID-19 pandemic has also presented filmmakers with unique challenges – but Georgina says that new technology investments for Canberra's screen industry have helped immensely, especially when it comes to travelling and location scouting.
"One thing that we could overcome, using technology, is if we can't go to Italy – let's bring Italy to us. Or whatever it might be." And this is certainly the case for THE GIRL ON THE MOON, where Georgina and her crew had to find a way to bring the fictional surface of the Moon to life.
Shot entirely in a studio in Canberra, the crew successfully created a virtual world, transporting viewers to the Moon, using an LED wall with the Moon's perspective of the Earth to create an authentic Moon colony set.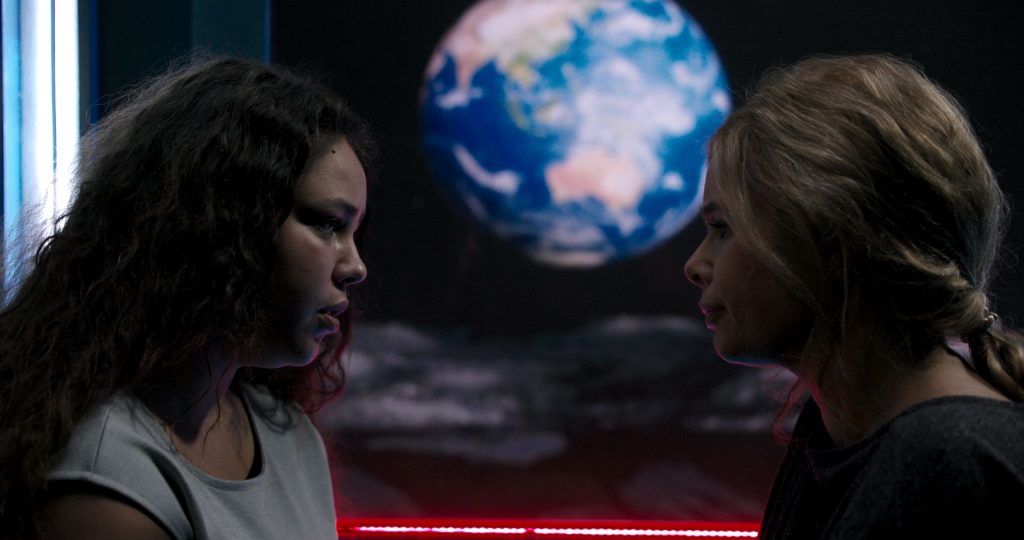 Still from
THE GIRL
ON THE MOON
With COVID-19 restrictions easing, Georgina is seizing the opportunity to get new projects off the ground.
She is excited to be continuing the story of Luna in the first of her upcoming projects, the Screen Canberra-funded TV series of THE GIRL ON THE MOON. Currently in development, the series leveraged the 2021 short film as a proof-of-concept and has allowed her to further explore the characters and themes in this universe.
Georgina has also recently optioned a book, WITH MY LITTLE EYE, – a complete departure from Luna's fictional world. While THE GIRL ON THE MOON is a work of science fiction, WITH MY LITTLE EYE tells the true story of two of Australia's first ASIO spies – a husband and wife team, and their three children, who they induct into the world of espionage. This project is another collaboration with Screen Canberra, and is currently in development with seasoned Australian television writer Felicity Packard (PINE GAP, UNDERBELLY).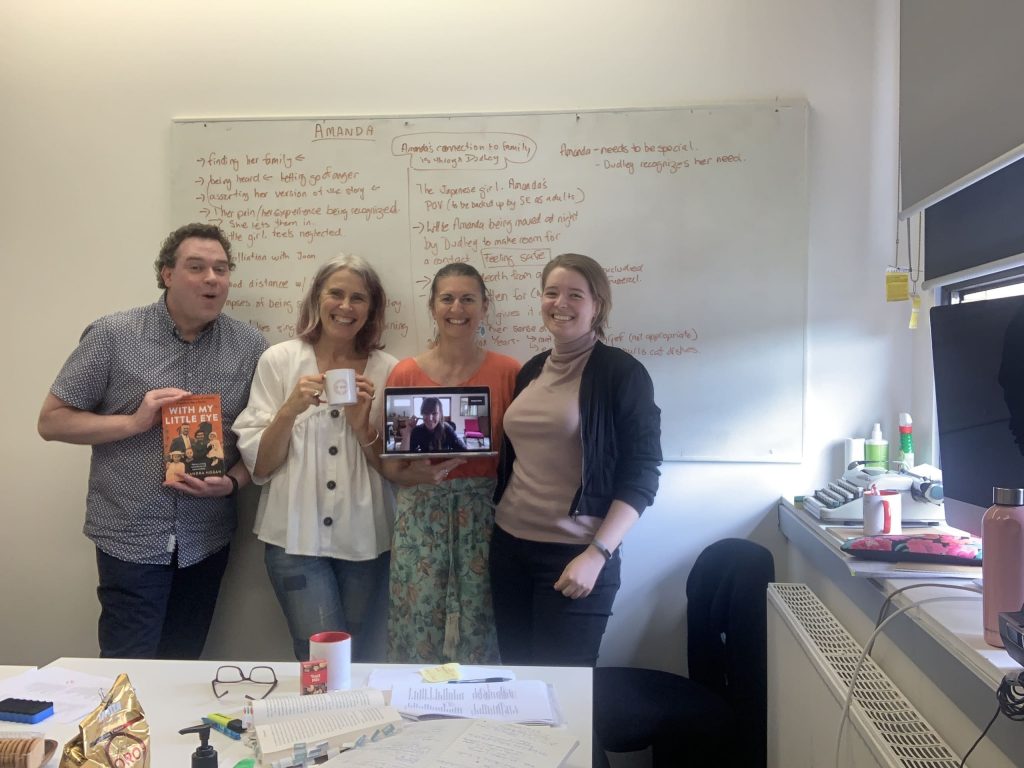 Writers Jonathan Gavin, Felicity Packard, Georgina Jenkins, Clare Young (via Zoom) and notetaker Paige Peek developing WITH MY LITTLE EYE
It is no secret that women feature at the heart of both of Georgina's projects – not only within the stories, but behind the scenes as well. Regarding her ambitions for the future, Georgina has cited female-driven stories for female audiences as something that continues to inspire her work and the work of her production company, Birds of Prey Entertainment.
"I want to tell stories from the female perspective, with a female gaze, written largely by females and produced by females."
With two intriguing concepts already in the pipeline, we're excited to see Georgina's next projects come to life!